Alaska and Africa
Meet in Amsterdam
By John Palmes

Dancing and shaking to the rhythm of the bells on her ankles and the drumming of her bare feet on the wooden floor, Madisoni struts onto the stage like Queen Marimba. She plays jaw harp, birembau, and mouthbow (African names of these instruments not known to me). Birembau (sp?) is known to most of us from Brazilian or South American music but Madisoni plays these instruments in uniquely African ways.
Madisoni wasn't on the program, she just happened to be in Amsterdam and was able to give us 15 minutes on the first evening of the Mundharp Festival. Her dancing entrance and her tribal dress say she represents a tradition and a culture. Madisoni speaks no English, but speaks through an interpreter.
I'm a mouthbow player from Alaska. Amsterdam was hard on me with temperatures over 100 every day. So I was amazed that Madisoni could stand the heat in all that clothing. She wore heavy traditional dress, but I was blown away by the way she played the mouthbow.
I've been tinkering for over 40 years, but Madisoni's playing and singing have more than 40 thousand years of tradition behind them. It's a culture that understands how to make music with a hunting bow.
Her mouthbow technique was immediately strange and impressive... instead of putting the end of the bow near her open mouth, she put her mouth around the bow, maybe 6 cm from the end, and she used a bow made from a long thin smooth stick.
Her bowing technique put a lot of energy into the string, making an incredible whistling, warbling, bugling sound, like very high falsetto singing... ( it's hard to say that there was no voice in it).. but it wasn't just a sound, it was part of a song, that was part of a way of life.
I can only imagine the antithesis between that culture and the grand new concert hall in Amsterdam where fortune had led us both. I've know of Madisoni for more than 10 years (Google for mouthbow). She is a very important bearer of culture within South Africa as well as without. I never imagined I'd meet her, certainly not in the Netherlands.
I brought two mouthbows with me from Juneau, but only intended to take one back home. The other would stay behind, a gift to someone as yet unknown. After the concert, friends pointed out Madisoni and her entourage on the patio, so I went down and introduced myself. They offered me a seat.
After some brief introduction, I showed Madisoni the bow I'd brought, demonstrated it, then presented it to her. She in turn, unpacked her bow giving me a close-up look at how she played. Madisoni motioned to me something like "how do you pluck it?".. I brought out one of my special green picks and handed it to her.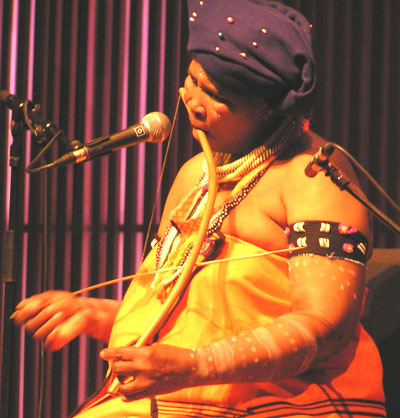 I only had two of those picks and didn't know where I'd find more in Amsterdam, so I was surprised that instead of handing it back, she put it in her pocket.... I felt foolish when she took out one of her birembau sticks and one of the sticks she uses to "bow" the mouthbow and gave them to me. We were trading and I hadn't caught on.
So, now I know exactly what the bow is made of (long slender stem segment of woody plant) and that it doesn't work on my steel strung bow. (This is the next frontier for my own mouthbow playing. Bowed mouthbow is an incredible sound.)
10:00 Saturday Morning, 8 people came to my mouthbow workshop, (thanks also to Lindsay Proteus for demonstrating). However, they were 8 bright, knowledgeable, inquisitive people, and I was able to show them something they didn't already know (the mouthbow revolution is now).
Amsterdam was great.... finally I've met a real mouthbow player. It was an honor to be invited to perform and give a workshop at the International Conference. I finally got to meet Lindsay Proteous, a Scotsman mouthbow player, had a beer with Roland Wimmer, of the Wimmer Maultrommel company (met at NA Jew's Harp festival in Richland, OR a couple of years ago. Fred Crane, and Anton Brun, folks from Austria, Russia, Hungary and Japan, India the middle east. I met or exchanged viruses with just about every famous Jew's harp player I'd never met......
John Palmes